RCOS 16" Truss Tube with a Takahashi FSQ106N on top
Our primary telescope is an RCOS 16" f/9 Truss tube Ritchey Chretien with Aries "Ion milled" optics. The secondary telescope is a Takahashi FSQ106N. Both telescopes use SBIG STL-11000M cameras with Don Goldman's filters. The telescopes were originally installed in one of Mike's roll-off roof "pods" at New Mexico Skies and later moved to their current home in a 15 foot Pro-Dome.
The 16" RC with a SBIG STL-11000M camera yields a field of view that measures 34 x 23 arc minutes with an image scale of 0.51 arc seconds per pixel when binned 1x1.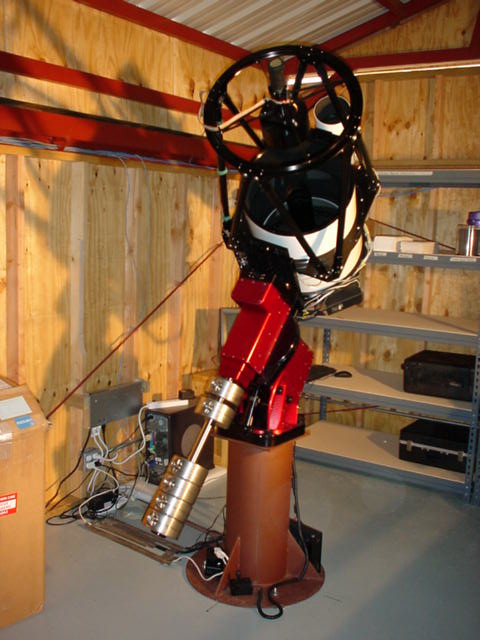 RCOS Telescope Statistics:
Aries Ion-Milled Optics, made of Sitall CO115M glass
Primary Diameter (clear) = 412.7 mm
Primary Diameter (clear) = 406.4 mm
Primary Thickness = 42.5 mm
Central Hole Diameter = 95.0 mm
Primary ROC = 2458.0 mm
Focal Length = 3554.0 mm
Nominal Focal Ratio = f/9
Exact Focal Ration = f/8.745
Secondary Diameter = 152.4 mm
Secondary Diameter (clear) = 147.0 mm
Secondary Thickness = 19.0 mm
Secondary ROC = 1200.7 mm
Secondary Obstruction 6.25" = 158.75
Secondary Obstruction Percentage = 39.06%
Secondary Magnification = 2.7x

Mirror Spacing (830.6 mm) = 32.7007874"
RCOS 16" Back Focus From Mirror (355.4 mm) = 13.992126"
RCOS 16" Back Focus Ffrom Back Plate = 10.0561"
Back Focus Tolerance = 1/8" 0.125000
Primary Central Hole = 101.6 mm

Field of View = 60 arcmin
RMS < 0.021 lambda (lambda = 632.8 nm)
Peak to Valley < 0.1 lambda (lambda = 632.8 mm)

Screw for secondary vane attached to square piece = #6-32 socket head x 3/8" or 1"
Screw for secondary vane through scope wall = cap screw button #8-32 socket head x 1"
Back Plate Fan Hole Dimensions = 2.94" x 0.5"
Telescope Tube OD = 19 1/8" 19.125"
Telescope Tube ID = 17 3/8" 17.375"
AP 2.7" thread = 24 TPI

Magnification ST-10/SBIG CFW/AP NP/0.67x focal reducer = 0.71 x
Magnification ST-10/FLI CFW/AP NP/0.67x focal reducer = 0.73 x